Current Events
October Family Fun Events
Spartan Wheelz in Motion
Join us on Monday, October 25, from 6pm – 8pm for an evening of adventure through campus.  We will be meeting at the MSU Breslin Student Event Center at the Magic Johnson Statue.  Students and their families can ride bikes, push strollers, or just walk the route.  In the spirit of Halloween, we invite participants to decorate their bicycles and wear your costumes.  At the end of the route, you will receive a treat!!  If you are interested, please complete the attached google form.  Please RSVP no later than Friday, October 22 by 3pm.
If you do not own a bicycles, there is a limited number of bicycles that can be rented through MSU bikes and the City of East Lansing.
Please click here to access MSU Bikes https://msu-bike-service-center.shoplightspeed.com/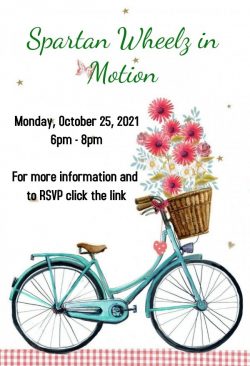 SPOM Halloween Parade
SPOM would like to invite you to join us on Sunday, October 31, 2021 for a Halloween Parade!  For more information and to RSVP, please click the link to fill out the google doc here.  RSVP deadline is Friday, October 29, 3:00pm. 
We will also be handing out diapers and wipes to those in need.  If you have not already filled out the google form with your diaper needs, please do so by clicking here.
Hope you can join us!!!!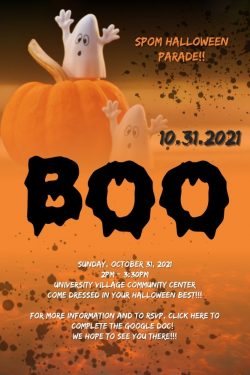 This event is FREE to current dues paying SPOM Members and their families. Your dues must be paid before attending. Dues for this year are $15/semester or $25/year. Dues can be paid by check, cash or credit card (http://studentparents.msu.edu/student-parents-on-mission/). There is a 4.2% service fee assessed to all online payments.
We hope to see you there!